Becky Chevis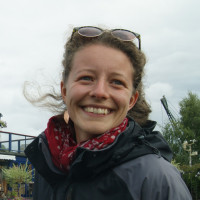 Becky Chevis is a freelance musician who plays the flute and runs community-based music projects in schools and care homes.
In her role as UCCF's Music Network Assistant she supports music students, produces resources that connect faith, musicking and musicology, and co-runs the Music Network's Profondo programme, a learning community of postgraduate and young professional musicians.
Having studied music at Oxford University, she now lives with her husband Tom on a narrowboat that's normally moored in rural Gloucestershire.
Music Network Resources